Clipperton Insights: DACH Tech Market Monitor H2 2022
Clipperton releases today its fourth edition of the DACH Technology Market Monitor. For the second consecutive year, we have taken a systematic look at the financing landscape in the DACH region (Germany, Austria and Switzerland).
Since late 2021, capital markets have experienced a transformation, driven by changes in macro and interest rate environments, investor reevaluation of risk versus growth, and a general market re-pricing. Despite the market cooldown's impact on private financing, markets have rebounded intermittently since Q3 2022, paving the way for the reopening of IPO markets.
DACH tech funding hit a peak in 2021 at €18.5 billion, only to decline to a still high level of €11.6 billion in 2022. The primary factors behind this drop were a reduction in mega-rounds (i.e. very large financing rounds above €500m and some decline of rounds between €100m and €200m) and a significant shift towards software, which accounted for 50% of the total funding volume in 2022.
The pace of unicorn creation slowed in H2 2022, as large financing rounds became scarcer. To put it into perspective, 2021 witnessed the birth of 25 new unicorns, H1 2022 saw eight, and H2 2022 produced just one, with DeepL. The majority of these new unicorns belong to the software sector or operate on recurring revenue models. Despite the slowdown, existing unicorns successfully raised over €2.3 billion in fresh capital in 2022.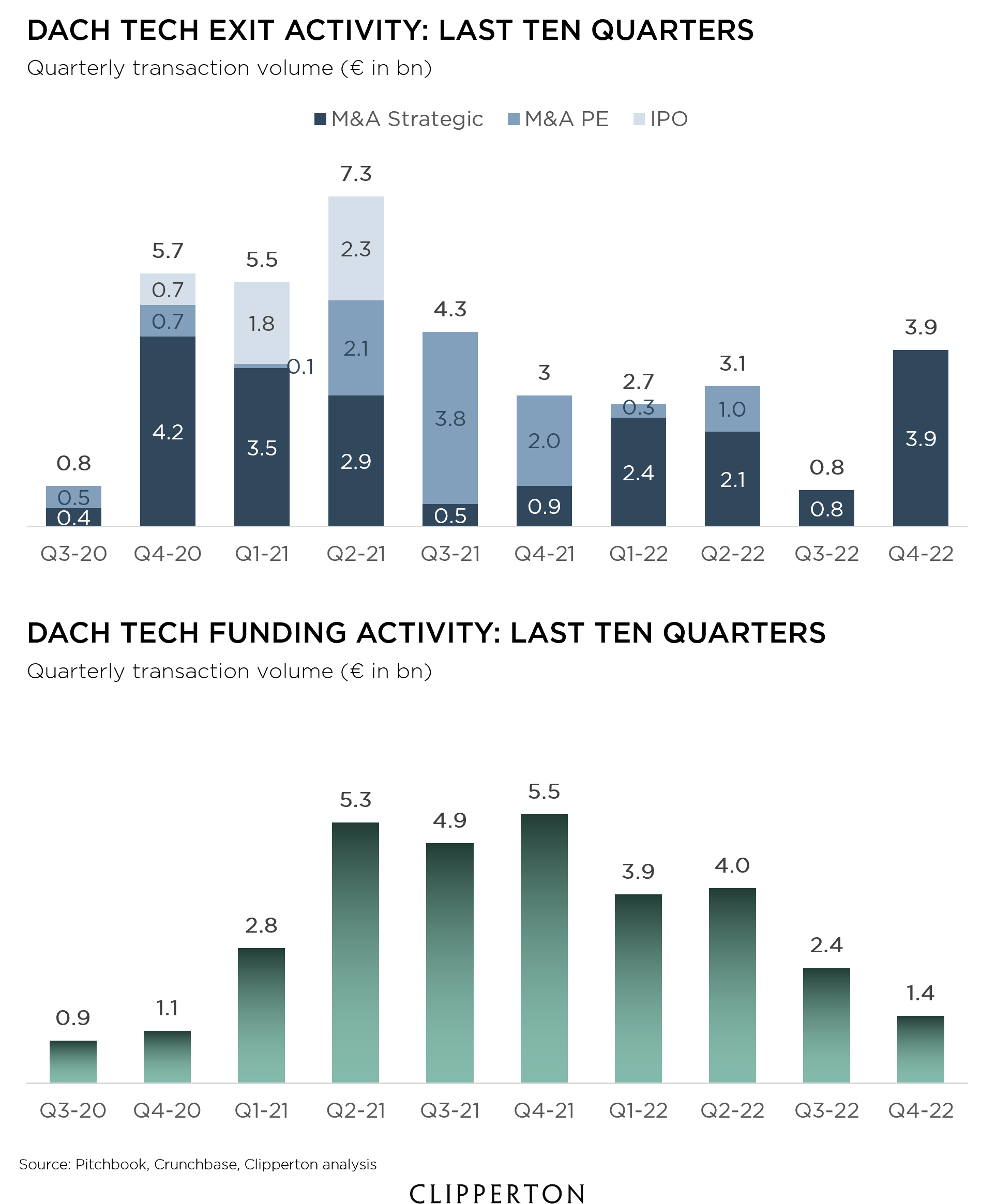 In this fourth edition, the following topics are covered:
Analysis of the financing environment, unicorn production and most active investors in the DACH region;
Zoom in on current market developments and their impact on valuations, tech growth financing volumes and M&A;
An update on the exit environment in DACH technology, showing a detailed view of volumes, the sectoral composition of M&A activity as well as the share of buyouts and buy-and-build;
Presentation of three promising companies in DACH technology:

CSS, a company developing eGECKO, an innovative, holistic software suite to digitalize and optimize business processes and midsized firms
Selfapy, an online mental health platform providing evidence-based psychological support in form of online courses
trbo, one of the leading tech providers of dynamic onsite personalization, optimization and testing in real-time